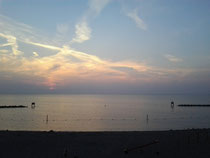 For some days now we are discovering the seaside on the north-west coast of Germany and the Netherlands. We have never been here before... well only in stories or in movies. But to be here, is really different : wide sand banks with some gras, black coloured sand or mud when the moon decides to take away the water. And always this liittle 'Brise'... kind of wind.
Maybe the 'German look' as socks in sandals have their origin here? Because it is warm but not really, and sometimes it is cold but not really.
And of course 'Nordsee people' ride their bikes and riding bikes means easy going and relaxing people. No stress and no traffic jams! 
It was a really nice experience, nothing was missing! Just thinking about the good and fresh fish with a good beer.
But well maybe one thing was missing: peebles! These littles stones washed by the waters that we use to create our milo messengers. We did not create that munch of them jet. Fortunately we still have some from the Baltic Sea but we should have taken mooooooore! Well we will be still some more days at the Nordic Sea in England, Scotland and Ireland. There is a village called Peebles in Scotland. We want to sell our milos there on a handcraft market.
But are there going to be peebles in Peebles???Let's sea! :-)