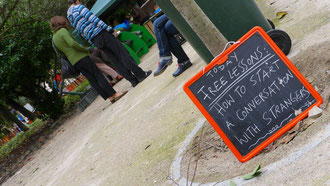 We met just 2days ago Carla, who lives in Lisbonne. She invited us to join her in a wonderfull little garden "Jardim do principe real" (is this the garden of the principle of reality !?). She told us about an organic market on saturday morning. In coming back home, we think to catch this opportunity to install ourselves in a connecting way with public.
And it was amazing ! 
It is another way to discover a city, an atmosphere, people. It is really nice to have the possibility to stay a whole morning in the same place in doing nothing, just sitting on a banch. But in the same time our installation take life by itself and meet people ! Some of them just pass, some start to draw or to write a postcard, a lot just smile in reading "today free lessons. Topic : how to start a conversation with stragers. first come, first served ! (this exercice come from the book of Keri Smith : Guirilla art kit)
Great experience which involves us to try another time !