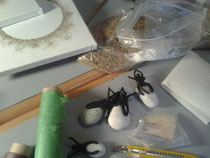 The new thing: we are going to have an atelier in the flat !!! 
The milo messengers will have their place there... it is getting in form slowly but we hope that by the end of the year we can use it properly... ;-)
It will also be a place for creatif expression workshops and German lessons from time to time...
come and a have look!
;-)